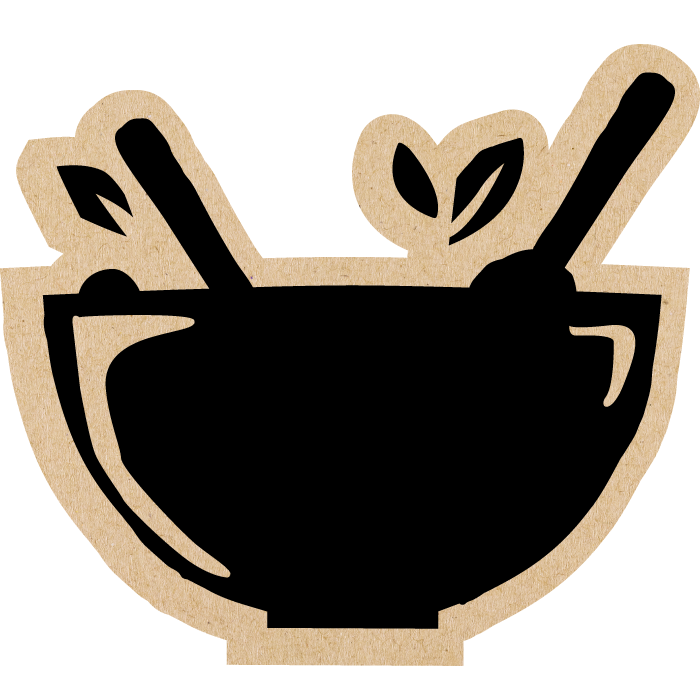 Basic cooking method
SALADS
THE BASICS STEP BY STEP….
The basic ingredients of a potato salad are boiled potatoes in cubes, slices or wedges and a sauce or dressing. And then you can add all kinds of ingredients. You will find various options under the heading 'tips'.
Boiling and cutting potatoes
You can make potato salad with peeled or unpeeled potatoes: do you want to use unpeeled potatoes? Then rub them clean under a running tap or scrub the potatoes.
The potatoes are cut into cubes, slices or wedges after they have cooled, but are you using large potatoes? If so, then cut the potatoes in half before boiling so as to shorten the cooking time
Boil the potatoes until they are cooked, but not cooked through and through: make sure they are still firm (if necessary, see the instructions basic cooking method 'boil')
Drain off the potatoes and allow to cool
Make a dressing/sauce
Of course, you can buy a ready-made dressing or sauce, but there are a lot of recipes that you can try. One of these is a creamy, yoghurt sauce. The ingredients below are enough for about 500 grams potatoes. Mix them in a small bowl and season to taste with salt and pepper:
2 tablespoons mayonnaise
1 tablespoon crème fraîche
2 tablespoons low-fat yoghurt
1 clove of garlic finely chopped
Pepper and salt
Cutting the potatoes
After they have cooled, cut the potatoes into cubes, slices or wedges that are about the same size and put them in a bowl or dish
Add the sauce or dressing and toss.
If desired, use additional ingredients (see 'Tips'): you can add them to the mixture or you may opt to serve them separately in small bowls with the salad. This will allow your guests to choose for themselves so that everyone will have something to their liking!
Refrigerate the salad until it is time for serving.
Tip!
Additional ingredients may include:
Fried bacon bits
Ham slivers
Tuna
Smoked salmon
Small tomatoes
Pickle
Egg (boiled)
Pearl onions
Red onion

THE RIGHT POTATO!
Various waxy/firm types and varieties in this category

Baby Gold – new baby potatoes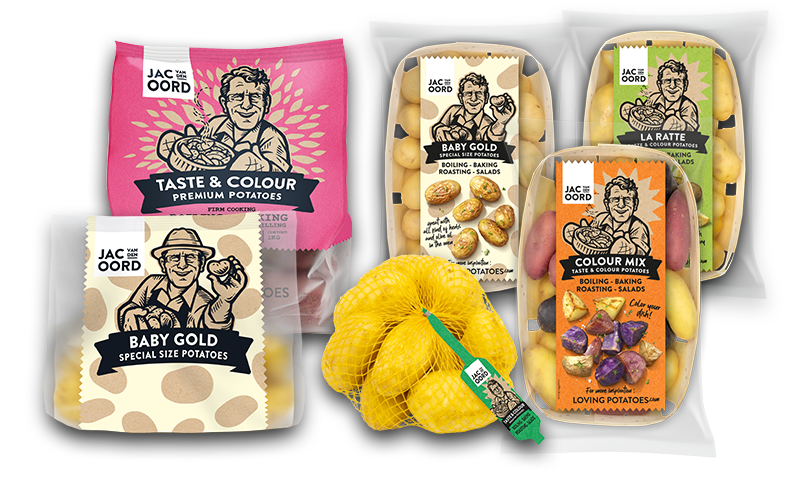 Can also be made with…
Waxy/firm texture potatoes

Asparagus Lovers – To go with asparagus
Salads are best prepared with firm texture/waxy potatoes: we want lovely, firm cubes, slices or wedges. Particularly if you prefer to use potatoes with skin, then we recommend culinary varieties, such as Charlotte and Franceline. Would you like a lovely colour on your plate? Then our Colour Mix of Deep Purple potatoes will certainly fit the bill! Our fantastic Baby Gold new baby potatoes are also ideal in that respect: no peeling, but simply halve the potatoes after they are cooked and they are ready!
Tip! Portion size
We recommend a portion size of approx. 200 grams per person.